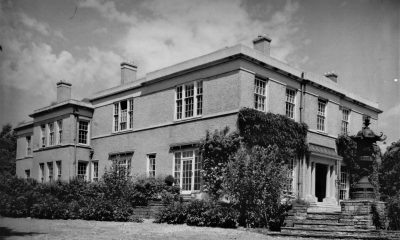 Bordesley Hall – conversion from business park to residential area
Bordesley Hall was an attractive 18th century Georgian mansion
Historically, the site is within Bordesley Park, a property of Bordesley Abbey, originally the lost Domesday manor of Osmerley.
The use of the Hall and its grounds changed to business when it was purchased by the British Cast Iron Research Association in 1941. In more recent times it has been used as a small business park.
In 2020, planning approval was given for the buildings to be converted to 54 apartments. This was a "change of use" government permitted provision, with little scope for amendment by Bromsgrove planning authority.
The owner subsequently submitted a further application which requested approval for demolishing all the buildings except the hall, and building new houses around it.
February 2022 – Approval has been given for the change of use of Bordesley Hall into three apartments and to demolish the surrounding buildings. Outline permission has been given to build up to 46 dwellings on the grounds.
This approval was given despite 65 written objections and in person objections given to the committee by the RGA Chairman, Councillor Annette English and Tim Hawkeswood.
Full details of the approved application can be seen on the Bromsgrove council planning portal – search for 21/00684/HYB
Indicative Outline Plan of the proposed development (note that access is via The Holloway only - contrary to some rumours there is no request to provide access directly to the A441)
The layout submitted as part of the application is indicative and full details regarding the siting, design and landscaping and how this will impact on the non-designated assets, will form part of future planning applications
This full application will cover the number and type of houses, the design including number of storeys, and location around the site, road layout etc. It will be subject to public comment and views from various public authorities and services providers.
The RGA will consider how to respond to this detailed application when it is published.